I have a bone, a pink nylon one to be exact. Mummy got it for me to chew on during my free time. It's good for my teeth she says.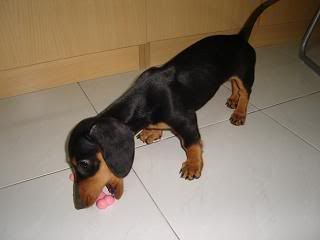 So what's so mysterious about this pink nylon bone you may ask.  
Well, over the past week, both daddy and mummy have been searching high and low for it but to no avail. They've exhausted every inch and corner of the room but still can't find the bone. The whole situation has got them quite baffled to say the least. And I enjoyed every moment of it. *sniggers*
Unknowing to them, I've hidden it in true dachshund style under my little home. I would occassionally parade out with the missing bone in my mouth and enjoy every moment of their shocked faces. And then as suddenly ensure that the bone disappears from their sight.
Mummy did suspect that I was the culprit behind the missing bone. but had no evidence to prove it. Until one fine day...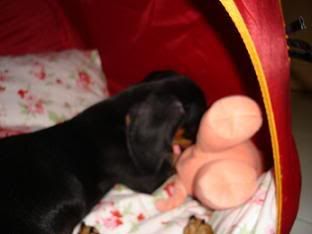 Exposed! Daddy catches me in action of burying the bone... =X
On a separate note, there was one day when I had no idea what I was doing dragging Baldy Pig through my pee and across the room. As a result, Baldy pig had to go into the laundry.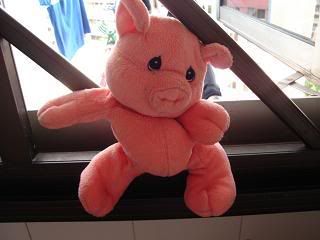 From the looks of it, Baldy pig sure has grooveeee.. =P