It was Singapore Hotdogs group 3rd Anniversary on 27th July 2007 and we had a private pool party that evening.
I was really looking forward to it cause i heard there will be games and i can't wait to take part in those games!
Since Daddy is in camp and mummy still haven't get her driving license (lousy), mummy had to take a taxi there. Good thing Mummy manage to share taxi with my fellow hotdog friend Ramu and his Daddy.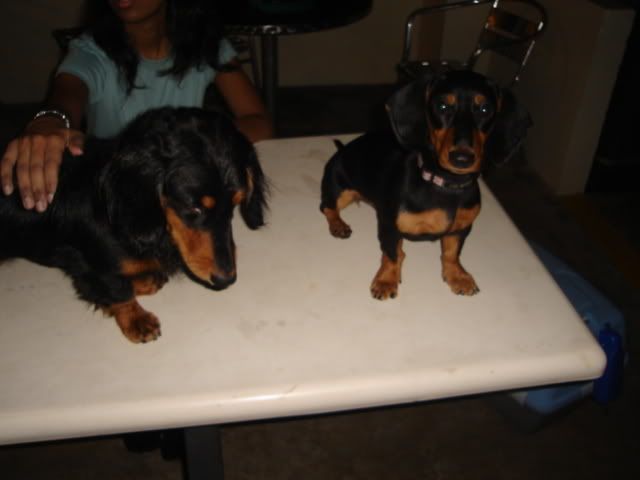 Here is a picture of me & Ramu. Ramu is a Long Hair Dachshund, black & tan too! Isn't he good looking???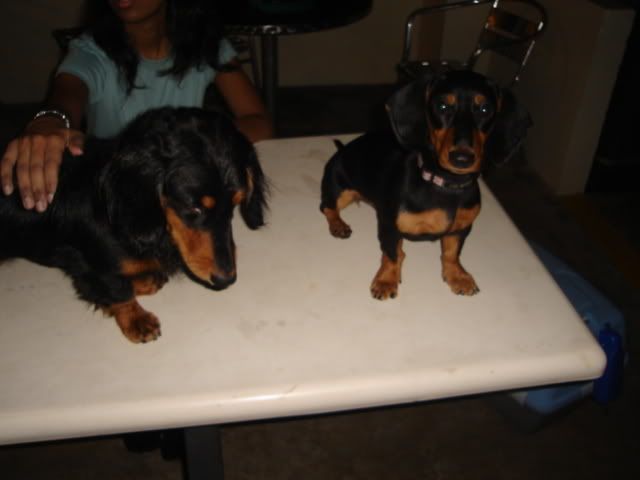 The organisers booked a doggie swimming pool at U-petamart, so the whole place belongs to US, the Dachshunds! Any dogs taller and have a body that is shorter, cannot come in. Oh, though there is a maltese, i didn get his name and i am not really sure if hes a maltese (Reina's Mum: I am pretty sure he is not a maltese) :p There were so many dachies that mummy didn't manage to get their names.
Heres the Pool. Nice eh? Can you see Jamie following behind me. I think he likes me cause the previous gathering, he kept following me too.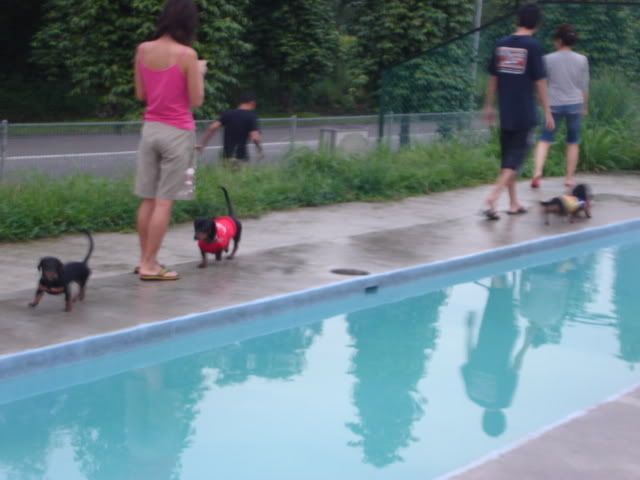 So, there was running, swimming & sit stay competition. I came in 3rd for both Running & swimming but i did badly for my Sit stay command. Based on overall results, i didn't manage to win anything! *sobs* Its not that i do not know the sit & stay command, but come on, the floor was so wet and dirty, of course i did not want to dirty my sexy back yea?
Heres a picture of the very handsome Clubbie & very pretty Tifanny!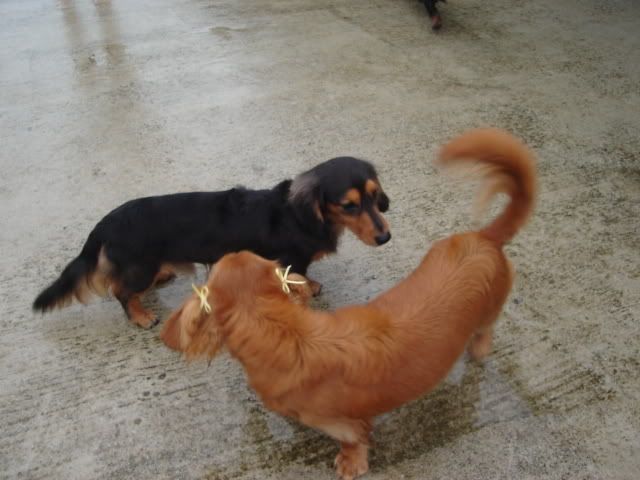 Food for the day!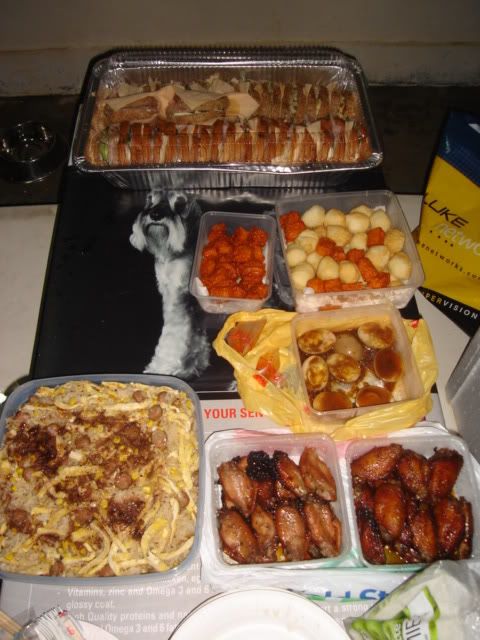 Here is a very blur group photo.
I had a greattttt time and i am so looking forward to the next outing. I will defintely win something the next time round if the let me compete on a carpet floor :p
Mummy's been really busy these days, She has 2 events coming thursday & friday. 2nd half of the year means the launch of Fall/Winter collection. I can't wait for her events to be over cause she looks like a zombie now. Well, if there is any good that came out of the preparation for her event, is the reason to buy new clothes & shoes. She came home today with a new pair of shoes & says she needs to squeeze time out from her tight schedule to buy some new cocktail dresses. Woman *shakes head*.... Shop, Shop, Shop....
Daddy will be coming home this Friday! Come friday come faster. Mummy will be done with her events and i will have Daddy here with me too!
I hope it will not rain ANYMORE cause if it rains, i can't go to the park! I want to chase some birds...