Meet Belle, my new friend. She's a labrador. It was her first time at the beach but you can tell that she absolutely loved it.
Any doubts or worries about her adaptation to the waters were quashed pretty quickly. Belle was quite the natural. Like me!
Here's belle no. 2,
Btw, that's me. And I wasted no time playing fetch in the sea. Nothing beats chilling at sea on a lazy weekend morning!
Torres harbours his own school of thoughts though.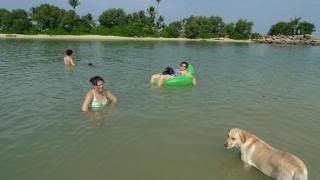 While I'm the fanatical swimmer, he's the surfer dude through and through. Can you spot him on the float?
You know what they say about a picture speaking a thousand words. From the pic above, quite clearly you can first timer Belle getting into the sea. Good old Torres floating and chilling on the float. While I'm way out at sea with Daddy.
Oh, and here's daddy having  trouble convincing Torres to get off his prized float.
Boy, do I love beach days. How about you?
P.S Much apologies for the minute image size. Will take better pictures next time.