Have you heard of the iPhone? Mum has this mobile device apparantly produced by some fruit company. According to the hoomans, this swanky little device redefines the mobile phone generation today. It boasts an apps store that has thousands of useful and entertaining applications,including games that users can buy or download for free onto their iPhones. Before I start sounding like some wannabe technical review writer, let's get down to today's business.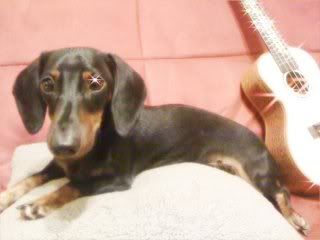 Here's Torres with the blink wink. How neat is that? He doesn't have that effect in reality, so the iPhone camera application effect came into good use this time round. *Winks*
Okay, I was kidding. He does have that special look in his eyes, doesn't he?
Oops, blooper alert. I was caught off guard in this one. I swear it was the meat stuck between my teeth!
Some food for thought. The iPhone was probably named as such because, like what Simon Cowell enjoys calling some of his contestants, self indulgent. Ever noticed how often hoomans these days whip their iPhones out and start playing games or accessing their virtual applications, blocking themselves out of the actual world that is going on around them? It's not really our style. We prefer doggie and human contact, or in lay hooman terms, socialising.
Till the next entry, take care everyone!
P.S Come on Spain! Go Torres!