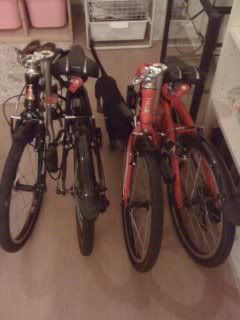 The hoomans have new toys in the house. We're not worried of being replaced. We have utter most confidence in ourselves as number one playmates in the house. There is no way they can resist our "Puss in boots" stare. Though it's becoming increasingly concerning that they're spending more time with their new bicycles.
Can you spot Suarez in the background? That's Murphy and Tiki. Yeah, the silly hoomans gave their new rides names. Can you believe that?
On a separate note, we really miss the beach. Hoomans, are you reading this!