Baldy pig was the first toy Mommy got me. It used to be hers but she was nice enough to pass it to me. Since then, Mommy and Daddy have showered me with many more toys but Baldy pig remains my favorite.
I enjoy fetching Baldy pig after daddy hurls it a long distance. I feel pumped up when I do so! I also enjoy locking my jaw on the pig and test myself against Mommy by not letting go when she wants it back. She's teaching me how to "give" the toy back. I think I'm supposed to let loose my grip when she says that. I'm still trying to understand that command.
In my free time, I also enjoy chewing on Baldy pig.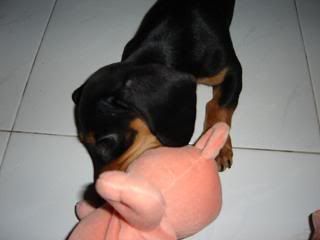 Though, I think I may have chewed it too much.
Before
After
Oops! :P