Last Saturday, I visited my doggie daddy and mummy. It was certainly a night to remember!
Allow me first to give a short introduction about myself. I came from a litter of 4, belonging to Mao Mao, a red long haired dachshund and CoCo, a black and tan smooth coat dachshund. I was born in  Singapore and am eldest to three other sisters.
Here's my daddy, Mao Mao! Isn't he smart looking?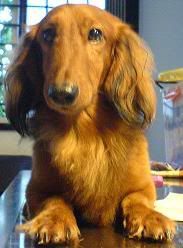 My mummy, Coco! I look so much like her! Daddy thinks that CoCo is a like crystal ball image of myself few years down the road.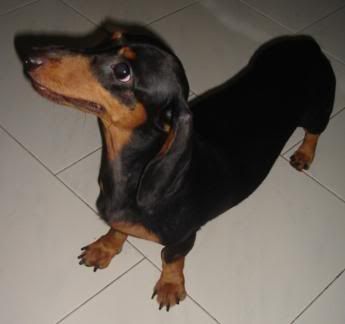 It was Father's day weekend. Happy Father's day to my 2 daddys. =P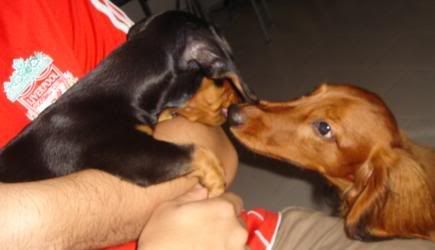 Sniffing, getting to know each other again before going around in circles. I wonder why we like to do that so much?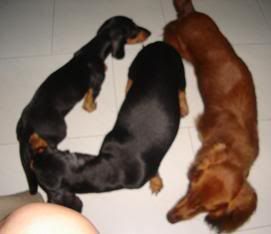 Playing with daddy...
Daddy and mummy tried their best to get a group picture of the three of us, but we were easily distracted and constantly moving about. These were about the best of the lot that they managed.
Reunited on the night.
Family reunion, family potrait!
We were missing our sisters though. Hopefully, we will be able to meet up during our next gathering.
Thank you mummy and daddy from bringing me into this wonderful world! and thanks for reading, my dear friends!
Have a nice day everyone =)