It was the F1 weekend. No pets allowed on the circuit so we caught it on TV. Again, torn apart between our Spanish namesakes and German heritage
(see previous blog post on World Cup)
, we were glad that it was a 1-2 finish for Alonso and Vettel! Just 4 games left and with so little separating the top drivers in the championship race, both Torres and I have got our paws in our mouth.
We're also pleased for Singapore. It was another night to remember, well executed and with all the global media attention eyeballed on this tiny island, we thought She did very well! Congrats Singapore!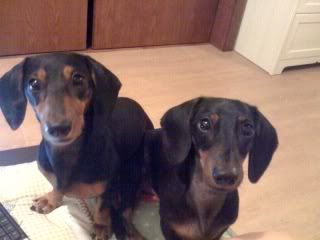 That's us, for the uninitiated. This week, we'll be heading down to fat camp because of the planned fumigation works going on at home. You see, every couple of months, the town council where we come from would plan for the rubbish chutes in our apartments to be fumigated. How it goes is that they will unleash some kind of lethal smoke that would rid off all those unwanted pests, mostly cockroaches. Just imagine a giant deadly fart.
All windows have to be sealed or those cockroaches would wriggle their way into our apartment. They're known for their legendary survival instincts. It happened once and it left everyone in the household severely traumatized. Everyone is determined not to  let it happen again.
Till next time, have a good day everyone!