Today, Mummy brought this strange looking red box with wheels into the room today.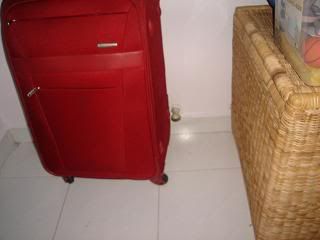 Checking it out...
Evil, Evil, Evil
Whenever this red box is out, it just means ONE thing.
Mummy will be travelling. She needs to go for a business trip :(
Leaving this Sunday on a midnite flight and be back on Thursday morning.
Mummy is such a LAST MINUTE packer *shakes head* and you know what? She takes pride in it. SERIOUSLY?!?!?!
Have a safe trip Mummy, its gona be a longgggggg flight, so i wish you NO turbulence, yeah i know u hate that.
Mummy, if you gona leave me all alone here (well, not exactly coz Daddy will be around), kindly bring me something nice back alright?