The following encounter happened last Saturday. 
I was first rejected entry into Bukit Timah hill. Apparently, dogs are not allowed in this park! What the hell! Bleah! What kind of park turns away dogs!
It however does seem like I won't be able to share one of mummy and daddy's favorite hang out places. =(
Nevertheless, I was determined to get my morning walk, so I went to another, Bukit Batok Nature Park.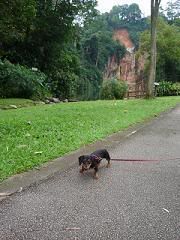 There I met...
Can you spot the monkeys amongst the branches? No chance of me hunting them though...
It was our first time at the park and we all savoured the experience. Mummy and Daddy took a couple of pictures.
[rockyou id=75283018&w=324&h=243]
Daddy and I sharing a moment...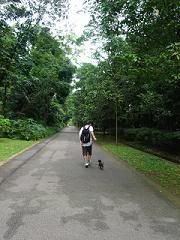 Later in the same morning, we went to fetch my grandma back from the hair dressers. There I met Sassy and Maggie!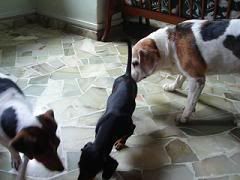 It was really nice meeting you!
Oh, and
Luckie
mentioned about the same top that we both have. Here's mine!